Crumbelina DiCaramello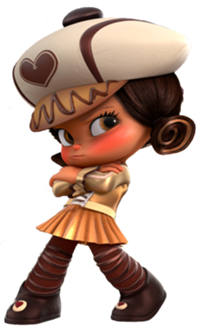 Crumbelina DiCaramello is a character from the game Sugar Rush. She is voiced by cymbre Walk. And Laura Bailey. Her candy theme seems to be based on various fancy and sophisticated desserts, most notably tiramisu, chocolate biscotti, and cannoli m Her signature kart is the Tira-Missile. On the online adaptation of Sugar Rush, she, Minty Zaki Snowanna Rainbeau, and Candlehead are available from the start as racers.
'
BiographyEdit
"With the exterior of a polished piece of peppermint, Crumbelina DiCaramello is the poshest racer in Sugar Rush. But when it comes to racing, extravagance and wealth doesn't distract DiCaramello; she considers herself as a down-and-dirty racer." even though she is based on "fancy desserts"
Appearance
Edit
Crumbelina DiCaramello is a young girl with a terracotta coloured complexion, honey/amber eyes, and deep brown hair that is pulled into tight buns on either side of her head. The curls of her buns have lighter streaks that seem to resemble cinnamon buns. She wears a beige racing cap that is drizzled with chocolate; the brim appears to be made of some sort of cookie. Crumbelina's jacket and skirt are of a latte hue, while her shirt is white with a chocolate filigree in the middle. Her leggings are a deep brown with darker stripes that match her boots with little hearts on them. Her racing outfit consists of her usual outfit, along with a white helmet with a brown heart on it, and a golden-yellow visor Shes cute to!!.