Nougetsia Brumblestain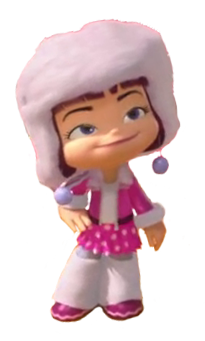 Nougetsia Brumblestain is a character in the game Sugar Rush. She is a palette exchange (colored) by Adorabeezle and only appears in some scenes, she is also absent from the online adaptation of game Sugar Rush. His name is not known, but it can be seen on the scoreboard. Its theme is based on frozen fruit yogurt. However, due to its name, it could also be based on marshmallow nougat named walnut candy.
AppearanceEdit
Nougetsia Brumblestain is a thin and pretty little girl with light skin, arctic blue eyes and brownish pink hair with a long braid on her back. She wears a magenta winter jacket with two white stripes on the sleeves and a dark magenta is the bottom one; over a white shirt. She also wears a magenta skirt with pale pink polka dots, very pale mauve leggings and a pair of very pale pink fluffy warmers on magenta boots decorated with a slightly pale pink glaceaso. Further; He wears a winter hat with earflaps, the front part is very pale pink with a lilac ball hanging on each side, and the back has stripes of very pale blue and magenta.
Nougetsia, Vanellope and the other recolors are the only pilots that do not appear in the browser game based in verison.
Interestingly your kart has the number 2 when it should have the number 8.
Nougetsia is the only recolor in having a design noticeably different from the runner on which it is inspired. Your shirt does not have the United Stades flag, it's just white; and the back of his hat has only two colors, unlike Adorabeezles who has three.
Your kart is like that of Adorabeezle, except it is pink instead of blue, white and red.
A fan name for your kart is the frozen yokart.
Ella, Adorabeezle, and Snowanna seem to be the only runners based on frozen treats.
As she represents frozen yogurt, she represents the healthiest food in the game.
It has a great resemblance to the character of Aurora of the also Disney movie "The Sleeping Beauty", because both have clear skin and their clothes are different shades of pink.